Outside Groups Outspend Stockton Unified Candidates 25 to 1
October 27, 2020 at 7:53 pm
Independent expenditure committees for three Stockton Unified School District candidates have outspent the candidates' opponents by more than 25 to 1. The organizations have been primarily funded by billionaire Michael Bloomberg and the pro-charter school group The City Fund through a series of nonprofits and political action committees.
The committees were formed in September to support the campaigns of Viola Shackelford, Valentino Silva, and Lange Luntao for the Stockton Unified School District Board of Education in areas 1, 3, and 4. Independent expenditure committees pay for communications to advocate for or against candidates, but by law cannot have any affiliation or coordination with the candidates.
The sole source of revenue for the organizations, known as Voters in Support of Viola Shackelford, Voters in Support of Valentino Silva, and Voters for Reelecting Lange Luntao, is the Stockton-based Central Valley Leadership Fund (CVLF). The fund, established in 2014, has been active in city council and school board races in the past, but never on the scale of this election. It does have donors in the Stockton area, but none have contributed more than $5,000 at once.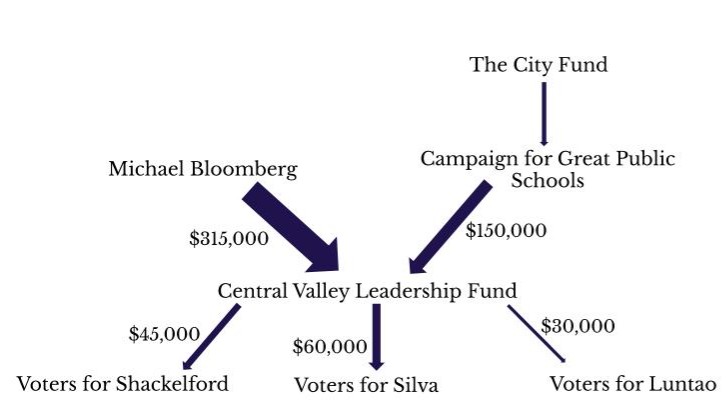 On September 21, the CVLF received $150,000 from the Campaign for Great Public Schools, a 501(c)(4) nonprofit located in Falls Church, Virginia. Campaign for Great Public Schools, more commonly known as Public School Allies, is the political arm of The City Fund, a group that has issued more than $110 million in grants to support charter schools and similar models. The City Fund and Campaign for Great Public Schools also share a UPS drop box in Falls Church.
The City Fund has directly given almost $1.2 million to Stockton organizations: $299,000 to the Community Foundation of San Joaquin, and $900,000 to the Silicon Schools Fund for promoting "innovative" school models in Stockton. The Silicon Schools Fund is a philanthropic group that works with charter school organizations, including Aspire Public Schools.
The $150,000 from Campaign for Great Public Schools was a significant boost to the CVLF, which held less than $27,000 on September 19. On September 29, the fund gave $30,000 each to Voters for Shackelford and Voters for Silva, and $10,000 to Voters for Luntao.
The CVLF's other major donation came from Bloomberg, who contributed $315,000 on October 8. Bloomberg made the contribution from his personal funds, not his foundation. After his donation, the CVLF embarked on another round of contributions to the Stockton Unified committees last week: $15,000 on September 19 to Voters for Shackelford, $30,000 on September 19 to Voters for Silva, and $20,000 on September 21 to Voters for Luntao.
The three committees together have spent almost $154,000 on phone banks, campaign literature, photoshoots, signs, online ads, and other services in support of the candidates. Since they have collectively only raised $135,000, many of their expenditures remain unpaid. Voters for Shackelford has spent $58,000, Voters for Silva has spent $45,000, and Voters for Luntao has spent $50,000.
The finances of the candidates' actual campaigns, as well as those of their opponents, are dwarfed by those of the independent expenditure committees. Shackelford, in Area 1, has raised $4,200 this year and spent $550. She has not yet responded to a request for comment. The incumbent trustee, Cecilia Mendez, has spent $4,800.
Silva told 209 Politics that he was "not sure" of the outreach to outside funding. He is running for the open Area 3 seat and has spent $5,500 out of $5,700 in contributions. Only one other candidate out of the five in the race, Alicia Rico, has disclosed finance information. She has spent exactly $1,090.
Luntao has been more active in fundraising, accumulating almost $25,000 and spending $10,000. "I can't speak to committees that I do not have control over and did not request," he said in regards to the outside spending.
One of his opponents, Gabriel Casillas, has declared that he will be receiving less than $2,000 through a Form 470. Casillas commented, "I can only hope that these committees are funding candidates because they believe in what each candidate represents, and not providing support in order to push their agendas into our school districts." The other candidate in the race, Ray Zulueta Jr., has not disclosed any financial information, but called the outside spending "obscene" and "unbecoming of our local elections."
The CVLF has also gotten involved with Stockton Unified in another way: helping to fund a recall for trustees Scot McBrian and Maria Mendez. It gave $2,500 on August 19, $15,000 on September 23, and another $15,000 on October 20 to the recall committee, known as Families for a Better School Board. Other donors, including Spanos Family Management, have also given to the committee, but the contributions from the CVLF are by far the largest.