Gabriel Casillas: "What We Need is a Complete Culture Change Inside Our Schools"
October 21, 2020 at 5:55 pm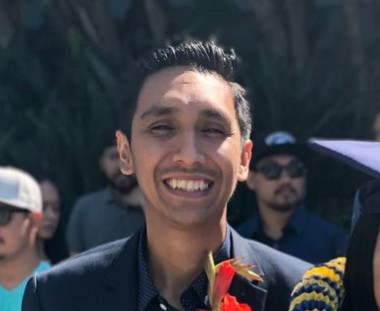 Facebook @gabrielcasillasforsusd
Gabriel Casillas is running for the Stockton Unified School District Board of Education in Trustee Area 4. The district is responsible for El Dorado, Hoover, Madison, Tyler, and Victory Elementary Schools, the Stockton Skills School, and the Primary Years Academy.
Casillas went to Stockton Unified schools and attended Delta College. He then worked as a retail executive in the Bay Area, coming back to Stockton to work as a parish administrator and youth minister at St. Bernadette's Church.
Casillas is active in an array of local nonprofits, including The Children's Home of Stockton, Parents by Choice, and Special Olympics. He is also a member of the Knights of Columbus and the Society of St. Vincent de Paul.
While working with children in Stockton, Casillas said he saw many of the same adverse influences that he grew up around, including drug use, gangs, and broken homes. "That's something that has really driven me to want to be a part of the school board of trustees, because I think that I have a unique insight of what our students are really facing out there behind the classroom doors," he said.
In order for those issues to be addressed, Casillas said that expanding counseling services and educating teachers about the situations of their students would be crucial. "We have to really coach our teachers and inspire them to see these students as… just children. Wherever their behaviors stem from, wherever their troubles stem from, it's not their fault," he explained. He also noted that a few teachers were doing that already for their students.
Casillas added that the district could look to those employed with Social Services or who specialize in those issues in order to connect with those marginalized students. He summarized, "what we need is a complete culture change inside our schools."
The Stockton Unified board has also become increasingly divided over the past year over a number of issues, in particular the sudden resignation of Superintendent John Deasy in April. High superintendent turnover in the district has been the case for years.
Casillas said that the board needed to rebuild trust, highlighting his business and community work as experience that gave him the tools to do so. "That means putting ego aside, that means finding a common ground, that means communicating and trusting each other's judgement," he said.
In terms of the issue of superintendent turnover, he said that the root cause needed to be addressed, but wasn't exactly sure what that was. Casillas did say that the board needed to be clear about what it wanted from the superintendent and come to a consensus as to who would be hired without outside influences or special interests.
Board politics aside, COVID-19 is still a massive issue facing Stockton Unified. Casillas said that the district had to work tightly with the state in determining when to go back to in-person classes, while adding that "it's the board's responsibility to be a voice for our students and our educators who may not exactly agree or are comfortable with the guidelines that are coming down."
While classes are still online, he said that more assistance needs to be given to parents and guardians dealing with the situation. He also suggested that counseling services reach out to students to provide moral support.
The coronavirus-induced economic downturn is also going to create budgetary problems for government services across the board, not just school districts. Casillas emphasized that he had to deal with a similar circumstance as an executive during the 2008 financial crisis, and that the district budget would really have to be scrutinized (not an uncommon statement). He was not sure about any specific programs he would want to preserve beyond ensuring that students and faculty were being taken care of.
Test scores in the district have also been a significant issue, remaining well below state standards despite some improvement in recent years. Casillas went back to his earlier comments on training teachers to build up overlooked students. "If we do that, if we build that trust and those relationships with our students… test scores will naturally go up."