Lange Luntao on COVID-19, Budgets, Board Relations
October 20, 2020 at 8:23 pm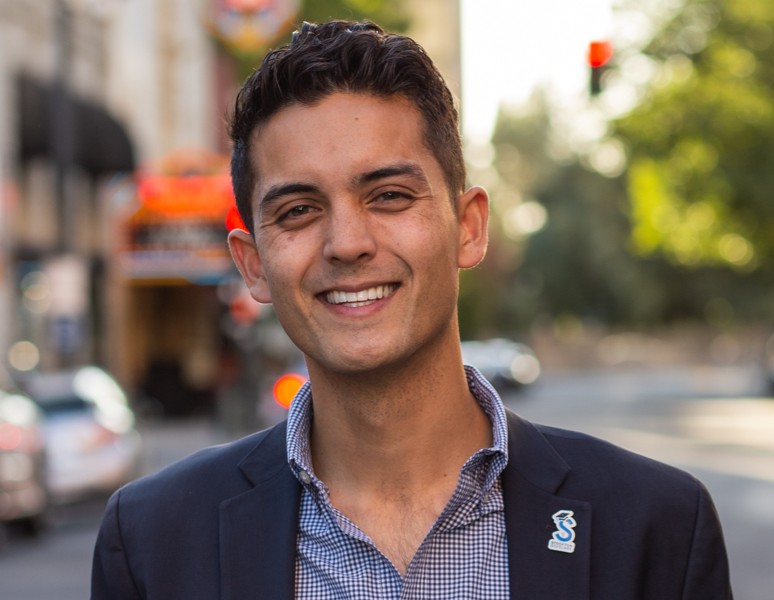 Stockton Unified School District
Lange Luntao is a candidate for the Stockton Unified School District Board of Education Area 4. He is the current trustee for the area, having won his first term four years ago. Area 4 is responsible for El Dorado, Hoover, Madison, Tyler, and Victory Elementary Schools, the Stockton Skills School, and the Primary Years Academy.
Luntao grew up in Stockton and graduated from Lincoln High School. After earning a bachelor's degree in social studies from Harvard University, he taught English for a year in Malaysia as a Fullbright Fellow. Luntao came back to Stockton in 2012, working as the field director for Michael Tubbs' campaign for city council and teaching sociology at Aspire Langston Hughes Academy. He was elected to the Stockton Unified board in 2016 as the first openly gay man elected to public office in the San Joaquin Valley.
Luntao is also currently the executive director of the Reinvent Stockton Foundation, a nonprofit that runs the Stockton Scholars program and seeks to address poverty, crime, and access to higher education. He was president of the Stockton Unified board in 2019.
He has been endorsed by Congressman Jerry McNerney, Assemblymember Susan Eggman, Stockton Mayor Michael Tubbs, the San Joaquin & Calaveras Central Labor Council, and Stockton Unified Trustees AngelAnn Flores and Candelaria Vargas.
The biggest issue currently facing the board is distance learning. Luntao pointed out that the district has done a lot of work already in bridging the digital divide, including giving every student a Chromebook and having hotspots available for every eligible student. He stressed that reopening schools should be focused on the most disconnected children, such as younger groups, mentioning that students with special needs had already returned to classes in a very limited and safe capacity.
Luntao added that the board should adopt strict expectations for public health when considering reopening. For example, he said that the board's community positive test threshold should be lower than the 5% currently set by the county, probably closer to the 3% used in New York City public schools. "The worst thing we could do is rush into a reopening that then harms our students' health, our staff health, and our community health," he added.
The district will also likely face the challenge of a coronavirus-strapped budget next year (as will the vast majority of districts across the state). Luntao said that state support from Proposition 15 would be critical for the district. Prop 15 is a measure on the November ballot that would tax commercial properties worth more than $3 million at market value instead of purchase price, generating roughly $6.5 billion to $11.5 billion in revenue a year. The revenue would be distributed to local governments and public schools.
"If Prop 15 does not pass, Stockton Unified, like districts throughout the state, but particularly in high-needs communities like Stockton, will be in a very difficult financial situation," Luntao said. The district has passed a resolution supporting the proposition.
Luntao also pointed out that the district was projected to end this year running into its reserves, and that staff costs were increasing amid a decrease in state funding. He added that the district has already begun to shore up its budget, including ending discretionary spending and hiring at the district office beyond core operations staff.
When cuts come, though, Luntao said that they should be kept "as far away from the classroom as possible." He said that the district has done a lot of work in lowering the student-to-teacher and student-to-counselor ratios, and bringing in new services and curriculum options, and that those types of programs should be defended.
This summer, in the wake of nationwide social justice protests sparked by the police killing of George Floyd, Luntao authored a resolution that would "eliminate the Department [Stockton Unified Police Department] and the sworn officers from all SUSD campuses… as soon as legally possible." The funds for the department would then be used to expand ethnic studies, restorative justice, mental health, music and art, and basic needs programs. The resolution generated quite a bit of discussion and reactions from the community.
When asked about whether or not the resolution would remain a priority for him, Luntao said that, "it's a little bit too early to say. Right now we're really focused on getting back to school safely."
However, he also stated, "I maintain convinced that our school district should not be spending eight million dollars a year of its general fund for a school district police department that is not required… and for which there is unclear evidence that it is supporting student outcomes." He added that that the district's COVID-induced budget would mean that the board would be reexamining funding for a wide array of services, not just the department.
The Stockton Unified board has also been beset in the past few years by tensions and infighting, recently over the abrupt resignation of Superintendent John Deasy in April. The Stockton Unified superintendent job has also been a position of unusually high turnover. For example, Deasy lasted less than two years.
In regards to what would be needed for the board to come together, Luntao said that "it's really going to take us as a board really recommitting to student outcomes and getting beyond some of these harmful, short-sighted governance decisions for us to rebuild that trust." For how the superintendent job could become a more stable position, he said that it would depend on who is elected to the board.
Stockton Unified's test scores are also still well below state standards, although they have improved somewhat over the past couple of years. Luntao claimed that the district is one of the "fastest-improving" districts in the state, not just in test scores but also in suspension levels and percentage of students going to college.
He pointed to improvements in curriculum, the investment of several million dollars in professional development, the expansion of counselors and Advanced Placement, International Baccalaureate, SAT, and ethnic studies programs, and promotion of literacy as to why test scores increased. Luntao emphasized the last one in particular. The district worked with nonprofits such as Reading and Math Corps to supplement classroom learning, particularly in high-needs schools.