Five Running for Manteca City Council
September 4, 2020 at 6:56 pm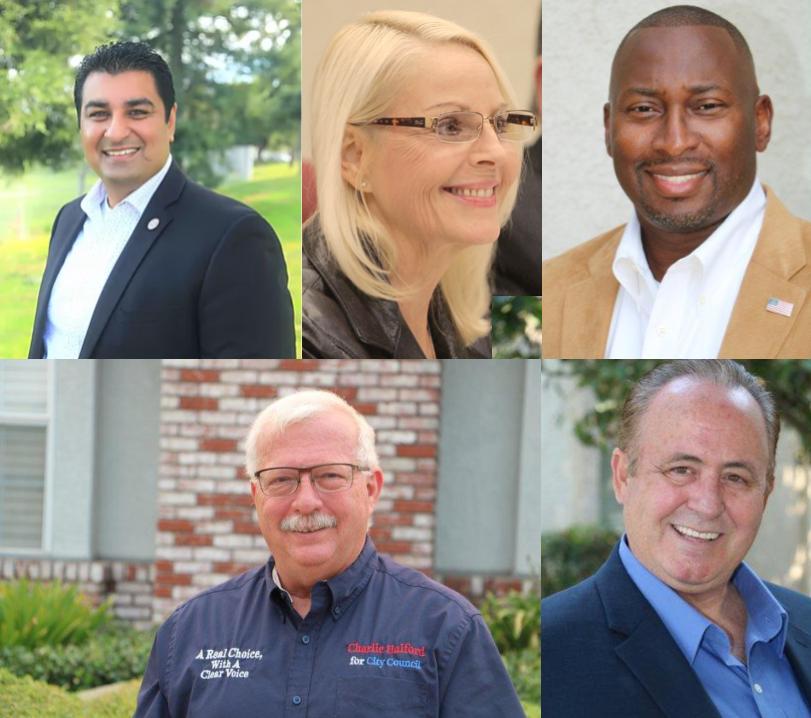 Images courtesy of singhformanteca.com/Manteca Bulletin
Five candidates, including both incumbents, are vying for two seats on Manteca City Council.
Gary Singh has served one four-year term on the council. He has also been on the city planning commission and the Manteca Unified School District Board of Education. While Singh was on city council, the city added a new fire station, expanded projects on Highway 120 and the Altamont Commuter Express, and increased the number of police and firefighters.
Singh has voiced his support for many of the usual city council issues, including diversity, jobs, transparency, and public safety. He has been endorsed by fellow councilmembers Jose Nuno and Debby Moorhead, Manteca Mayor Ben Cantu, San Joaquin County Supervisor Miguel Villapudua, and San Joaquin County Board of Education members Ken Vogel and Vern Gebhardt.
The other incumbent is Debby Moorhead, who has been on the council since 2008. Moorhead played a significant role in the opening of Great Wolf Lodge, which she began supporting in 2004 while executive director of the Manteca Chamber of Commerce. She also spearheaded the effort to build the Atherton Drive gap between Airport Way and Union Road. Moorhead has said that she would like to see the city hire at least three new community service officers.
Also running is Fred Cunha, a registered nurse. Cunha decided to run for city council in part to support law enforcement amidst the ongoing movement to divest from policing in favor of community alternatives. He would also like to encourage faith-based and non-governmental organizations to help with the homeless crisis, and work with local hospitals and healthcare providers to increase the existing healthcare infrastructure. Cunha has been endorsed by the San Joaquin Republican Party and Back the Badge California.
David Terrell Martin Sr., an Army veteran and career services director is also seeking a spot on city council. He has also served as the co-chair of a nonprofit that educated marginalized students with disabilities, and currently is on the board of another organization that provides employment education. Martin Sr. has been endorsed by former Manteca Police Chief Dave Bricker, former mayor and current councilmember Dean Uecker, and former city council candidate Jeff Zellner.
Martin Sr. spoke with 209 Politics about his proposal to introduce a new class for students known as the Junior Police & Community Foundation Corps (JPCFC). The class would introduce youth to the police through leadership, vocational, and recreational programs, allowing both groups to see each other in a positive light. Martin Sr. has said that he will advocate for the expansion of faith-based organizations such as His Way Recovery as well.
Martin Sr. has also detailed a plan to address the homelessness crisis, saying that the city needs to partner closer with Manteca's community resource officer rather than establishing a homelessness czar. He would like to partner with local organizations and businesses to offer health care, substance abuse rehabilitation, career development, job application, and life skills courses. Martin Sr. also told 209 Politics that he thought term limits for mayor and city council should be established.
The final candidate is Charlie Halford, a firefighter, EMT, and former Manteca Police Chief. He has also worked with United Way of San Joaquin County, executive director of the Boys & Girls Club of Manteca, and the Second Harvest Food Bank. Halford has been endorsed by the San Joaquin County Republican Party, San Joaquin County Board of Education trustees Ken Vogel and Vern Gebhardt, San Joaquin County Supervisor Bob Elliott, and the Manteca Police Officers' Association.
Similarly to Cunha, Halford has said that public safety should be the city's top priority. He also discussed with 209 Politics some recent decisions by the city council that he thought were poor. Among these were the inclusion of three more days to the winter holiday period for city employees, the addition of 16 new positions soon after the city's declaration of emergency due to the coronavirus pandemic, and high turnover among administrative positions.