San Joaquin COVID Cases Dip, But Not Enough for Orange
April 20, 2021 at 8:11 pm
San Joaquin County's daily COVID-19 cases per 100,000 people dipped to 7.7 from 9.6 this week. However, the county is still ineligible for the orange tier, where the vast majority of California counties currently reside. Five counties (Calaveras, Fresno, Kings, Mono and Santa Barbara) moved to the orange this week, making for a total of 38 counties comprising 87% of the state's population.
San Joaquin County's positivity rate, at 3%, is well within the requirements for the orange. So is its health equity metric of 3.3%, which declined this week after seeing an uptick the week prior. However, the orange tier, California's second-least restrictive, requires counties to have a case rate of less than six per 100,000.
San Joaquin moved to the red tier on April 6 after spending more than four months in the purple.
Additionally, San Joaquin County is currently towards the back of the pack on vaccines, having partially vaccinated 35.4% and fully vaccinated 21.8% of its residents. These numbers put the county at 36th and 41st, respectively, out of 58 California counties.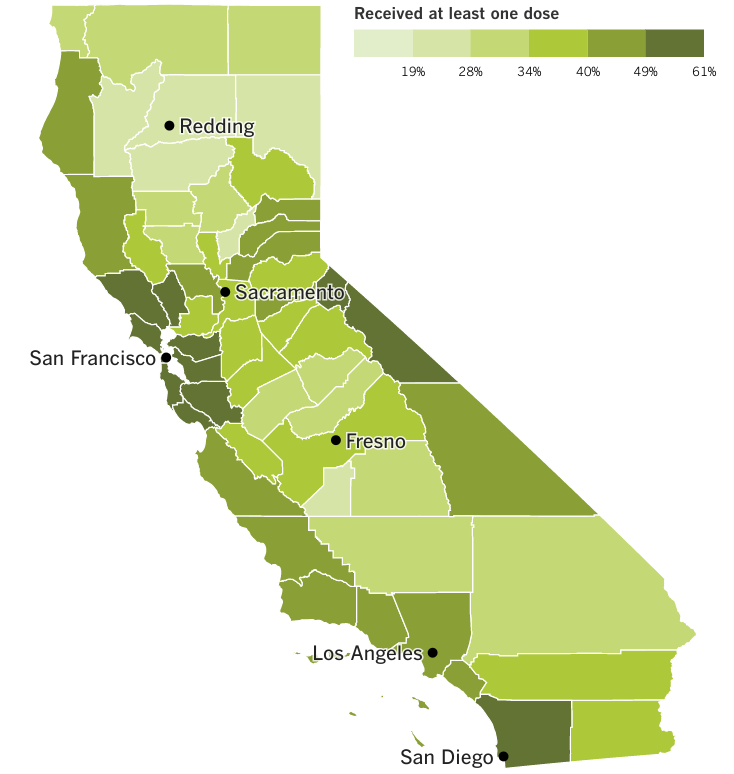 Los Angeles Times
For comparison, Marin County has given more than 61% of its population at least one shot, with 42.7% fully inoculated. Rural Alpine County, the smallest in the state, has done even better, with 71.8% partially and 50.2% fully vaccinated. Overall, California has partially covered 43.7% and fully vaccinated 22.7%.
Vaccinations across the United States hit a snag last week after federal officials recommended pausing administration of the Johnson & Johnson vaccine after six women developed rare blood clots. More than seven million people had already received the shot when the decision was made.
The one-dose regimen remains on hold, but top infectious disease expert Dr. Anthony Fauci recently said he expects a decision to be made by the CDC on Friday.
The J&J pause was a major blow to San Joaquin County's largest vaccination clinic. Located at the Stockton Arena, the site administers as many as 5,400 shots a day, but only carries the J&J vaccine.
The hold came just before California opened up eligibility to everyone 16 and over.