County's COVID Numbers Stagnate as J+J Pause Complicates Vaccine Rollout
April 13, 2021 at 4:44 pm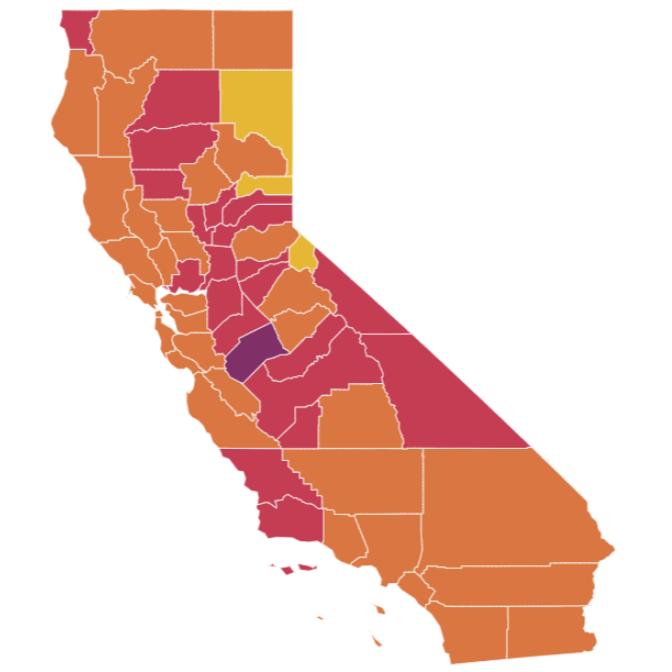 covid19.ca.gov
After reaching the red tier last week, San Joaquin County saw only slight changes in its COVID-19 numbers this week, reporting 9.6 daily cases per 100,000 people with a test positivity rate of 3.9%. Its health equity metric, however, shot up from 3.4% to 4.1%.
The latest numbers come as cases are slowly rising across the United States, with the situation in Michigan looking particularly dire. But the country's vaccination campaign is continuing to get shots in arms, with a new high of 4.6 million doses administered yesterday.
In California, almost 40% of the population has received at least one dose and 21.6% have been fully vaccinated. San Joaquin County, however, is behind in comparison; only 29.6% of residents have been partially inoculated, but 18.7% have been fully vaccinated. The county's vaccine rollout, as with the rest of the country, is also likely to be complicated by the decision to pause administration of the Johnson & Johnson vaccine.
Federal health agencies, including the CDC, issued the guidance on Tuesday after six people developed rare blood clots in the weeks following the J&J vaccine. More than seven million people have received the shot, and public health officials said they were halting doses "out of an abundance of caution."
Gov. Gavin Newsom (D), who received the J&J shot, called it "extraordinarily safe" during a Tuesday event in Butte County and said the halt would not "materially impact our ability to fulfill our expectations". The one-shot J&J vaccine currently accounts for only 4% of the state's supply.
In San Joaquin County, the chief complication from the pause concerns a mass vaccination site that recently opened at the Stockton Arena. The clinic, which administers as many as 5,400 shots a day, only carries the Johnson & Johnson vaccine.
The county opened up shots on Monday to everyone over 18, and is set to expand the rollout to individuals over 16 on Thursday along with the rest of California.