San Joaquin County Moves to Red Tier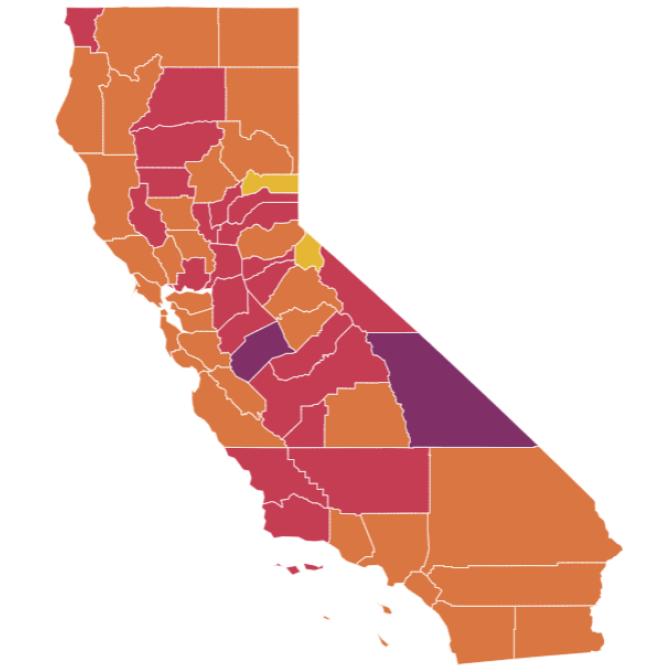 covid19.ca.gov
San Joaquin County has finally moved into the red tier after 20 consecutive weeks in the purple based on the state's accelerated tier framework. While its current daily case rate of 10.1 per 100,000 people remains too high for the red, its positivity rate (4%) and health equity metric (3.4%) qualify for the orange tier, enabling the county to move.
Indoor operations for businesses including restaurants, gyms, and movie theaters are allowed in the red tier, with modifications. Retailers can also expand their capacity from 25% to 50%. But if San Joaquin County's positivity rate rises above 5% or its case rate increases by 15% for two consecutive weeks, it will move back to the purple tier.
As with previous weeks, the county's COVID-19 numbers are significantly higher than the rest of the state. Overall, California has a 1.6% positivity rate, the lowest in the country, with 5.1 cases per 100,00 people.
State officials announced Tuesday that they would retire the tier system and open almost all sectors of the economy on June 15, provided that hospitalizations will remain low and there is enough vaccine supply to give everyone over 16 a shot. However, California's mask mandate will remain in place.
Inyo and Merced are the only two counties still in the purple tier, with San Joaquin County having moved to red. In order to move again to the orange tier, the county will need to have fewer than 5.9 daily cases per 100,000 people for at least two weeks. Its positivity rate and health equity metric are already in the orange tier.
This criterion was relaxed on Tuesday from 3.9 daily cases after California reached the milestone of having administered over 4 million vaccine doses to people living in its poorest neighborhoods.
As of Tuesday, 34.5% of Californians have received at least one shot and 18.3% have been fully inoculated. In San Joaquin County, these numbers are 25.7% and 14.8% respectively. The county's numbers will also be helped by the opening of a new mass vaccination site on Wednesday at the Stockton Arena. The site, which is expected to give out more than 5,000 shots a day, was delayed after unexpected shortages in vaccine supply.
All California residents over 16 are set to become eligible for vaccines on April 15. The expanded rollout comes as variants of the coronavirus continue to circulate, including five designated as "of concern" by the CDC.
At the Tuesday Board of Supervisors meeting, San Joaquin County Public Health Officer Dr. Maggie Park said there have been nine confirmed cases in the county of the B.1.1.7 variant, which emerged in the United Kingdom. This includes one case in a minor, as the variant is thought to be more transmissible for children.
The county also has four cases of the B.1.427 and B.1.429 variants, which were first identified in California. No cases of the P.1 (of Brazilian origin) or the B.1.351 (of South African origin) have been reported in San Joaquin County.