$12.3 Million Awarded in Crime, Climate Grants to Stockton
December 15, 2020 at 9:00 pm
The city accepted a $1.5 million grant from the California Violence Intervention and Prevention (CalVIP) program to reduce violent crime and incarceration. The funding comes as homicides have spiked in the city by 66%, with 53 so far this year. In 2019, there were 32 homicides at the same point in the year.
The city's office of violence prevention (OVP) is partnering with several local organizations in spending the grant money. Friends Outside will work with the city on a leadership council that comprises individuals at very high risk of gun violence. The council was created by the Operation Ceasefire partnership.
$190,000 has been delegated for three part-time, paid fellowship positions, two at Friends Outside and one at Advance Peace. Friends Outside will also be providing meeting support ($82,500) and participation incentives ($110,000) to attract high-risk individuals, who are largely socioeconomically disadvantaged. These will include meals and transportation.
Advance Peace will also have a part in the incentives ($82,500) and support ($100,000). Members of the leadership council will also receive stipends as part of a financial self-sufficiency program, for which the OVP and Friends Outside received $132,000.
The California Partnership for Safe Communities (CPSC) and the OVP were allotted $439,000 for coordinating the leadership council and surrounding support, as well as other program developments. The rest of the funding is going towards travel expenses, financial audits, and general management.
The city will receive another $1.5 million in in-kind contributions, mostly from the redirection of staffing expenses as well as a study paid for by Northeastern University.
The city council also approved another grant from the state's Transformative Climate Communities (TCC) Program, totaling $10.8 million. The program funds development and infrastructure projects for disadvantaged communities, with the hope of environmental, health, and economic benefits.
$1.8 million will go towards planting 1,750 new trees in a project area in south Stockton in partnership with Fathers & Families of San Joaquin (FFSJ) and PUENTES. The same area will also receive residential devices and education to save water and energy as part of the Rising Sun Center for Opportunity's Climate Careers project. The project, which has been given $2.5 million, will hire 56 seasonal positions (primarily Stockton residents aged 15-22) to provide those services.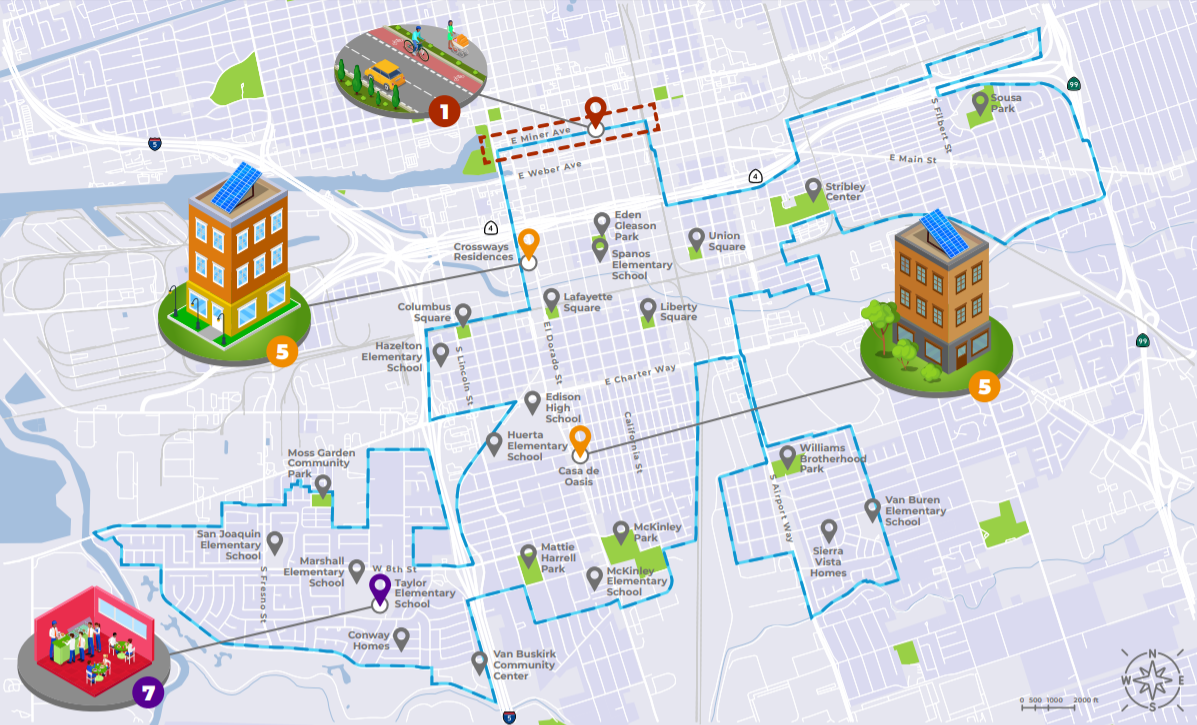 City of Stockton
Rising Sun, along with FFSJ, GRID Alternatives North Valley, San Joaquin Regional Transit District, and Insight Garden Program, has been allocated $541,000 for a three-year program to create jobs directed towards those in the project area. These include solar installation training, gardening and landscaping instruction for incarcerated individuals who want to reenter the workforce, a bus maintenance mechanic apprenticeship program, and a pre-apprenticeship trades program for youth. The program is expected to train roughly 86 people.
A project by GRID Alternatives received $2.1 million for solar installation and energy services. The program is expected to serve roughly 108 single-family, low-income households and four affordable housing developments. In addition, 16 residents will be trained on solar installation and job readiness.
$400,000 will go towards the Edible Schoolyard Project, which will provide around 50 families at Taylor Leadership Academy with weekly access to fresh produce for 30 months.
FFSJ, Little Manila Rising, Catholic Charities of the Stockton Diocese, and Public Health Advocates will collaborate on a $866,000 community engagement program. Little Manila will develop 55 local youth to become "climate resiliency experts", and all four partners will work with planning community-wide events.
Some of the grant money is also being used to supplement existing projects. For example, $1.5 million has been delegated towards renovating Miner Avenue from Center Street to Aurora Street. The project, which already had $17.8 million in funding, will narrow the road from four lanes to two lanes, add bike lanes, and modify street-side parking.
"I am incredibly proud of the work we put into this effort. The funding is just a start, there is still more work ahead. I know with continued community support we will start to see positive changes in Stockton for years to come," said Mayor Michael Tubbs in a statement.