Supervisors Spar Over Allegations of Ethics Violations
December 9, 2020 at 5:09 pm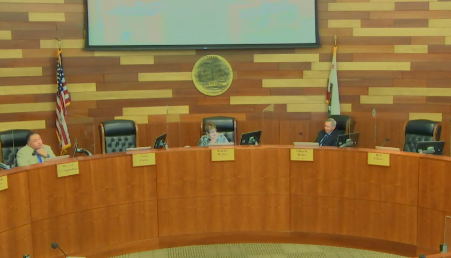 San Joaquin County
The San Joaquin County Board of Supervisors held a tense discussion of alleged ethics violations on Tuesday, with multiple supervisors making pointed comments. The board was considering claims made by Supervisor Tom Patti that County Counsel J. Mark Myles was biased against him, and had lied to Supervisor Kathy Miller.
Patti made his allegations during the board's meeting on November 3, citing two board agendas from the April 23, 2019 and November 3 meetings. In the agenda from last year, the board's discussion of a possible ethics violation by Patti was labeled as "BOS - Discuss Violation of Code of Ethics."
In contrast, a discussion of Supervisor Chuck Winn's comments in November was referred to as "CC - Discussion of Alleged Violation of Board of Supervisors Code of Ethics." Patti claimed the differing titles represented bias by Myles, attributing the wording of both to him.
In a presentation to the board, Myles explained that he was not responsible for the agenda title from April of last year. The "BOS" in the title meant that it originated from the Board of Supervisors, while the "CC" from November's agenda meant County Counsel.
After Myles spoke, Patti criticized him for a supposed double standard in the way he investigated allegations of ethics violations. Myles said he had modified his approach as he dealt with complaints in order to avoid "negative repercussions".
When Patti claimed that that had been at his expense, Myles apologized.
"That should've been the first words out of your mouth when this issue was brought up." Patti responded. "How absolutely terrible, as an elected representative, for me to have my county counsel… sharpen knives and come after me."
In response, Miller said, "This is an almost unbelievable amount of complete denial of what happened and a failure to accept even the smallest amount of responsibility… I am just absolutely flabbergasted. I have never seen this kind of bald-faced nerve in many, many years.
Winn added, "I'm just absolutely appalled at your behavior, not only for the last four years, but certainly in regards to these allegations against Supervisor Miller. And I know you think that we're picking on you, but frankly, there's a lot of things over the past four years that I could've raised in regards to your conduct and your integrity that I didn't, in deference to you as a fellow board member."
During the November 3 meeting, Patti also claimed that Myles had falsely told Miller that Patti had brought ethics violations against her twice, when he had supposedly only done so once. He also said that he would be willing to apologize if there was documentation to detail otherwise.
Myles produced two separate memos detailing multiple allegations by Patti: one in May 2019 regarding information Miller allegedly divulged from the board's closed session, and one in August 2019 for her use of the term "slush fund" to describe a proposal of his.
Patti apologized to Myles, saying his memory was "very short", but defended his stance that Miller lied in using "slush fund".
Myles said a review of the board's ethics code will be scheduled for January, when the new board is seated. Supervisor Bob Elliott will be replaced by Robert Rickman, the current mayor of Tracy.
Patti attended the meeting by phone after testing positive for COVID-19 last week.
The entire conversation can be viewed here, starting at approximately 7:01:41.