Tubbs and Lincoln Neck in Neck in Raising, Spending
October 25, 2020 at 8:12 pm
Stockton mayoral candidates Michael Tubbs and Kevin Lincoln raised and spent very similar amounts of money from September 20 to October 17, after Lincoln managed to outraise Tubbs the quarter before. However, Tubbs remains well ahead in terms of cash on hand with days left to go in the race.
From September 20 to October 17, the latest campaign finance quarter, Tubbs raised roughly $70,000. This included almost $54,000 in large contributions (those over $1,000). Los Angeles venture capitalist Yael Cohen ($5,000), Stockton Chase Chevrolet owner John Chase ($3,000), and Mountain House investor Gurpartap Singh ($3,000) were the largest individual donors.
Tubbs also received significant boosts from Spanos Family Management ($15,000), the North Valley Labor Federation Committee on Political Education ($5,000), and the DRIVE Committee ($5,000), the political action committee of the Teamsters.
His campaign spent more than $116,000 during the last quarter, leaving almost $150,000 on cash on hand on October 17. Lincoln, on the other hand, reported just under $19,000 on the same day, despite comparable raising and spending numbers. This is because he had much less in the bank on September 30, $71,000, compared to Tubbs' $195,000.
Lincoln raised around $71,000 this quarter, exactly $60,000 of which came from large donations. His largest donor was the Stockton Police Officers' Association, which gave $10,000. The union had already contributed $15,000 on August 20.
An array of individuals and organizations each gave $5,000 to Lincoln from September 20 to October 17: Kelly's Express Car Wash, Stockton developer William Filios, the Farmers & Merchants Bank of Central California, the Stockton Professional Firefighters, the Red Target Corporation (a real estate company), and A&D Ranches.
While Tubbs and Lincoln spent similar amounts of money, they did so on very different services, reflecting the strategies of their campaigns. Almost ⅔ of Lincoln's expenses went towards television airtime and product costs, totaling more than $82,000. All but $500 went to Strategy West Communications in Rancho Murieta. Tubbs' largest spending was on campaign literature, at $53,000, compared to $12,000 for Lincoln.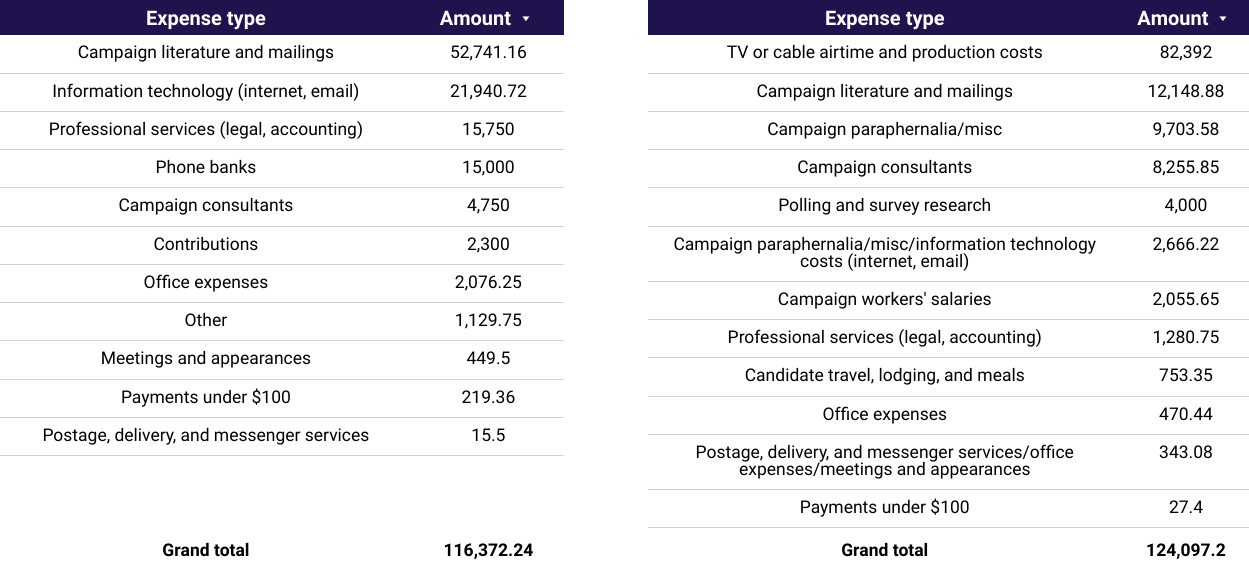 Tubbs also spent much more on online advertising services, including more than $15,000 in payments to Facebook, likely for advertising costs. Lincoln's only similar expenditure was $2,666 to a Manteca communications company, which was also used for campaign paraphernalia.