San Joaquin County Could Reach the Orange Tier Next Week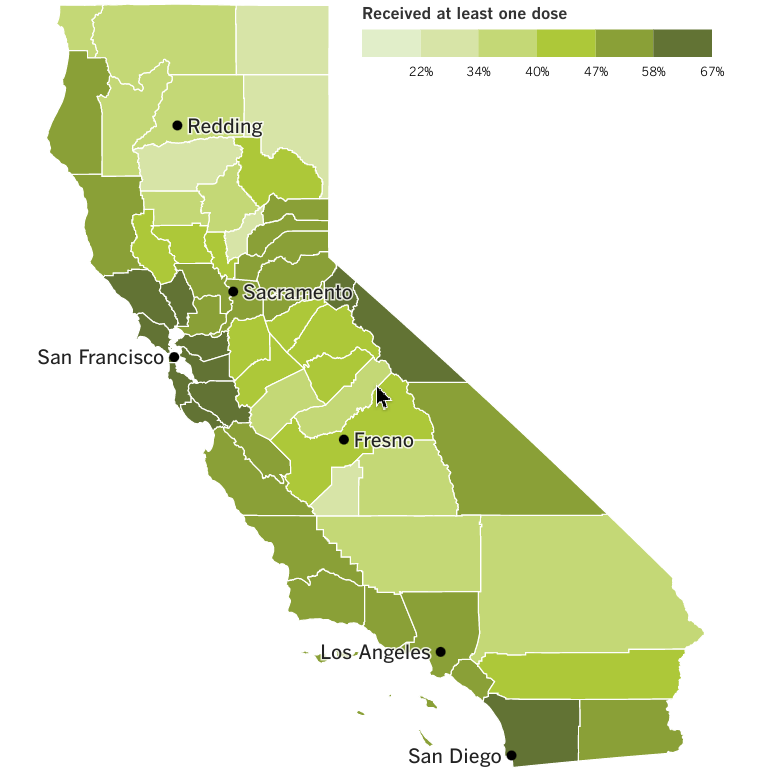 Los Angeles Times
San Joaquin County, one of only eight California counties still in the red tier, has met the requirements for the orange tier after seeing its daily COVID-19 case rate fall to 4.8 per 100,000 people. If the county's rate remains below 5.9 cases for another week, it will be able to move into the orange tier.
The improving numbers, released Tuesday by the California Department of Public Health, come as the state nears the planned reopening date of June 15, when almost all distancing and capacity restrictions will be eliminated. California will also retire the tier system and adopt the new masking guidelines from the Centers for Disease Control and Prevention, which state that fully vaccinated people do not need to wear masks except in a few specific cases.
The state also continues to make progress in vaccinations, with 53.2% of the population having received at least one dose per the latest data from the Los Angeles Times. Along with 42.2% of people being fully vaccinated, California is slightly ahead of the national numbers of 49% and 39% respectively.
San Joaquin County has fully vaccinated 32.1% of its residents and partially vaccinated 44.2%. That's generally better than the other Central Valley counties, but behind both the state and national rates. In California, three counties have already given more than 70% of their population a shot.
San Joaquin County's numbers, while improving, are also behind the state averages. California has a 1% positivity rate and is averaging 2.8 daily cases per 100,000, both among the lowest in the nation. More than 90% of the state's population is in the orange or yellow tiers. San Joaquin County has a test positivity rate of 2.1%, a number that rises to 2.5% when only considering the county's most disadvantaged residents.
Should the current numbers hold, the county will move into the orange tier next week, further loosening restrictions. However, most coronavirus precautions will be lifted anyway on June 15.