Case Rate Stagnates, but County's Outlook is Improving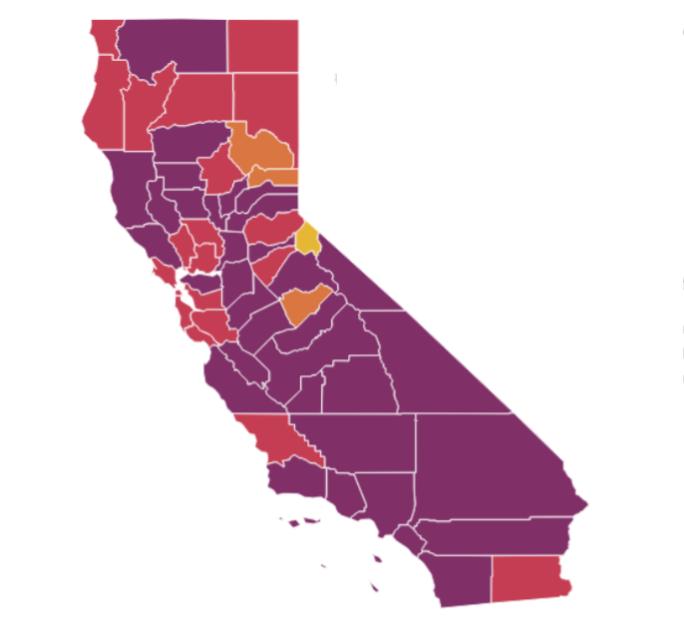 covid19.ca.gov
San Joaquin County reported 11.2 COVID-19 daily cases per 100,000 people this week, with a 4.4% test positivity rate and a 4.2% health equity rate. The county's case rate, which remains too high for the red tier, saw little change from last week's rate of 11.6 per 100,000.
As of Tuesday morning, 14.8% (113,000) of the county's residents have received at least one dose, with 6.4% (49,000) having received two. Statewide, roughly 18.7% of the population has gotten at least one shot, and 8.7% are fully vaccinated.
There has also been some friction between the county and Blue Shield, the state's new vaccination provider. Supervisor Tom Patti called the health care giant's takeover a "power grab" and asked during a recent meeting that the county look into ways to challenge the insurer.
As with the last several weeks, San Joaquin is still in the purple tier. Normally, it would have had to maintain a case rate of below seven per 100,000, along with test positivity and a health equity metric below 8%, for at least two weeks in order to move to red.
San Joaquin may also stand to benefit from the state's recent changes to its tier framework. Now, if a county's test positivity rate and health equity metric rate are two tiers below its current status, the county will receive a one-week credit for the lower tier.
San Joaquin's positivity rate and health equity metric are below the 4.9% and 5.2% respectively needed to be in the orange tier, which is one below red.
"We have the possibility of going red next week", said San Joaquin Public Health Officer Maggie Park during the Tuesday Board of Supervisors meeting. There are two ways in which that could happen. If the San Joaquin's case rate falls below the seven required for red, it will be allowed to move down. If the case rate remains above seven, but the positivity rate and the health equity metric stay in the orange levels for another week, the county can move down as well.
Requirements for the red tier may also change depending on vaccinations. Once the state administers more than 2 million doses to the most disadvantaged 25% of its residents, counties will only need to be below 10 cases per 100,000 to enter the red.
San Joaquin's intensive care unit capacity also fell below 100% for the first time since mid November on Tuesday, currently standing at 95%.
Some school districts have begun the process of reopening, with Tracy and Lincoln Unified having recently announced plans to send younger students back. Once San Joaquin reaches the red tier, students of all ages are allowed to return to in-person classes.
A number of counties moved from the purple to the red tier this week, including Alameda, Imperial, and Santa Cruz. Roughly 20% of California residents are currently in the red tier.
Alpine County also became the first to reach the yellow tier, the lowest out of the four. Three other rural counties (Plumas, Mariposa, and Sierra) are currently in the orange tier.