Case Rate Continues to Hold San Joaquin Back From Red Tier
March 23, 2021 at 6:29 pm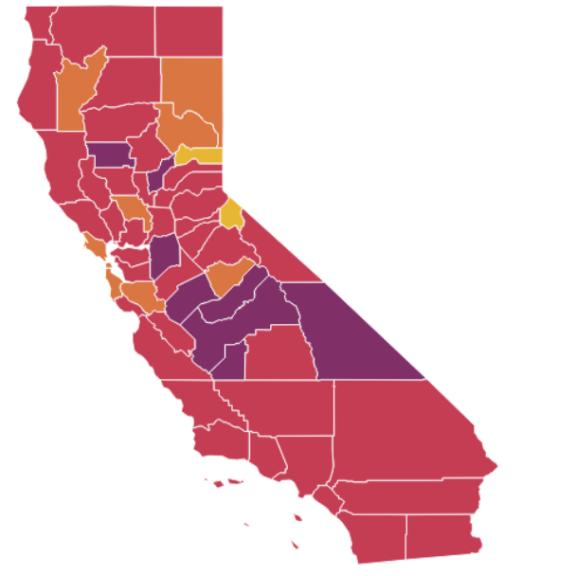 covid19.ca.gov
San Joaquin County will remain in the purple tier this week, one of only eight counties still under California's most stringent COVID-19 restrictions.
The county's case rate is 11.7 per 100,000 people, a jump from last week's of 10.5. Its positivity rate, at 4.6%, is also a slight increase. However, the health equity metric fell from 5.8% to 5.4%.
Currently, the case rate is preventing San Joaquin from moving to the red tier, which demands a case rate lower than 10. The county also failed to qualify for the red tier under the state's accelerated framework, which allows a move into red if the county has a positivity rate and health equity metric in the orange tier, regardless of its case rate.
San Joaquin's positivity rate is within the requirements of the orange tier, but its health equity metric narrowly missed the threshold of 5.3%.
A county must be eligible for a less restrictive tier for two weeks before moving. In the red tier, restaurants can have indoor dining and retailers can expand their capacity.
Additionally, new guidelines released Saturday by the California Department of Public Health say that schools for grades K-12 may open in all tiers as long as the county has a daily case rate of less than 25 per 100,000.
At the Board of Supervisors meeting on Tuesday, County Public Health Officer Maggie Park said that there was a second confirmed case of the B.1.1.7 coronavirus variant in San Joaquin. The new strain, which emerged in the United Kingdom, is more contagious.
Park also announced a new mass vaccination site at the Stockton Arena that is set to open next Tuesday. She estimated that it would be able to perform "a few thousand" shots a day.
Roughly one-tenth of county residents, or 80,000 people, have currently been fully vaccinated, with an additional 81,000 having received one dose. That makes for roughly 21% of the county with at least partial vaccine coverage.
This is a couple of points behind the state average, where 26% of people have been partially vaccinated and 13.2% of people have been fully vaccinated.
Overall, California is reporting 5.5 daily cases per 100,000 people and a 2% positivity rate, numbers significantly lower than the current numbers in San Joaquin. Nine counties, including San Francisco, San Mateo, and Yolo, are in the orange tier, with two rural ones (Alpine and Sierra) in the yellow.
Stanislaus, Kern, and Nevada moved to the red this week. The eight remaining in the purple tier are mostly in the Central Valley.