County's Case Rate Still Too High For Red Tier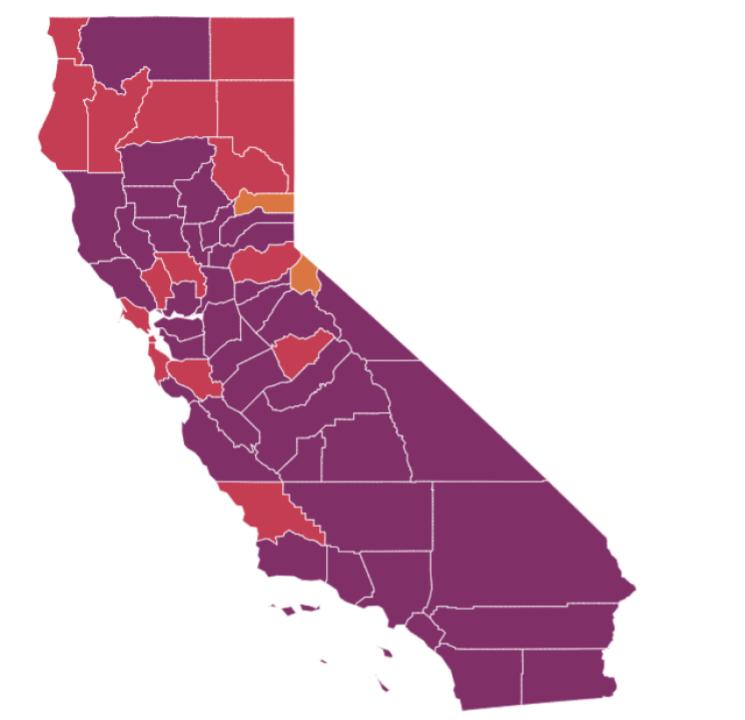 covid19.ca.gov
San Joaquin County recorded 11.6 daily COVID-19 cases per 100,000 people this week, an improvement from prior weeks but still too high for the county to enter the red tier. Fewer than seven cases per day are required to move into the lower level, where schools and businesses can expand operations.
San Joaquin has a 5% test positivity rate and a 6.8% health equity positivity rate, which measures the test positivity rate for the county's most disadvantaged residents. Both parameters are below the 8% threshold for the red tier.
Statewide, COVID-19 cases have been improving as well. Most of California's population remains in the purple, but seven counties, including San Francisco and Santa Clara, moved to the red tier this week. The state currently has a 3.7% positivity rate, with 10.2 daily cases per 100,000.
Lawmakers have also made new pushes to open schools after almost a year of online learning, with Gov. Gavin Newsom and Democratic leaders in the state legislature announcing a $2 billion plan to get younger students back in the classroom by April 1. In San Joaquin, both public and private school employees are receiving doses of the Pfizer-BioNTech vaccine.
A few school districts, including Ripon, Manteca, and Escalon Unified, are open for in-person or hybrid learning. Additionally, Tracy Unified recently announced that it would bring kindergarten through sixth grade back to class in late March, with later grades following once the county is in the red tier.
The red tier will also allow for indoor dining and increased retail capacity, but churches and places of worship will have to wait until lower tiers to expand.
On Monday, San Joaquin and several other Central Valley counties moved to a vaccine distribution run by health insurance giant Blue Shield. The new system is supposed to be more efficient, lifting the burden of vaccinations from individual counties. However, the transition has not been completely smooth, with San Joaquin County Supervisor Tom Patti calling it a "power grab" during a meeting last week.
The county just passed the 10% vaccination mark on Thursday, and as of Tuesday afternoon has administered more than 137,000 doses. Roughly 97,000 people have received at least one shot, with 40,000 having received two. Statewide, around 16% have gotten at least one dose.
Over the weekend, federal government also authorized the Johnson & Johnson vaccine, which only requires one shot.