Harder's Agent Orange Bill Likely to Pass as Part of Bipartisan Defense Package
December 3, 2020 at 4:31 pm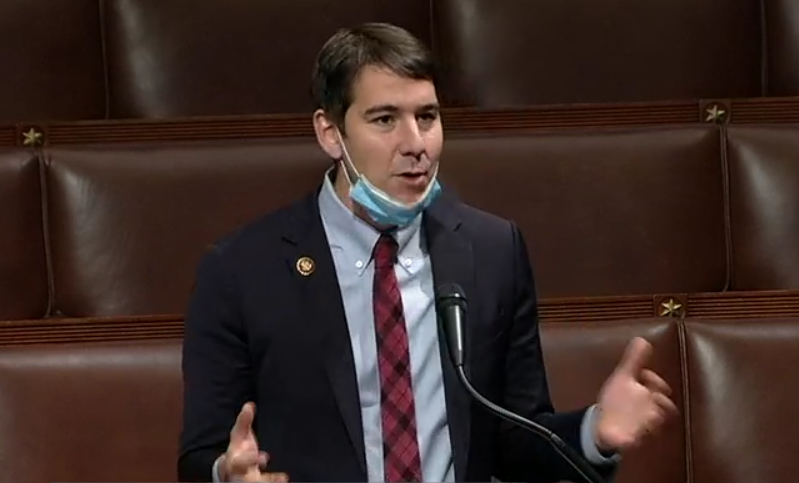 CSPAN
The Fair Care for Vietnam Veterans Act, sponsored by Rep. Josh Harder (D, CA-10), looks likely to pass Congress as part of a massive bipartisan defense package despite a potential veto from President Trump. The package, known as the National Defense Authorization Act (NDAA), is a yearly bill that specifies the budget for the Department of Defense and has passed Congress every year since its first version in 1961.
The Fair Care for Vietnam Veterans Act was introduced by Harder and Rep. Pete Stauber (R, MN-08) in January after the Department of Veterans Affairs (VA) said it would not cover several diseases associated with Agent Orange exposure for at least a year. Agent Orange is an herbicide that was sprayed heavily by the U.S. military during the Vietnam War and has been linked to a series of health problems.
The VA has a specific list of Agent Orange-related conditions that make Vietnam veterans automatically eligible for benefits. Harder's bill would add bladder cancer, Parkinsonism, and hypothyroidism to the list, expanding coverage for roughly 83,000 veterans. Former VA Secretary David Shulkin had attempted to include those conditions in 2017, but the move was blocked by Office of Management and Budget officials, including Director Mick Mulvaney.
"This is an incredible day for veterans who have waited decades to get the care they deserve - Congress has spent years paying lip-service to vets, but thanks to our bipartisan efforts we're putting our money where our mouth is," said Harder in a statement on Thursday. He also thanked Senator John Tester (D-MT) for introducing the bill in the Senate and pushing for it to be included in the NDAA.
Another Agent Orange-related bill was passed into law in June of last year. The bill, known as the Blue Water Navy Vietnam Veterans Act and cosponsored by Harder, required the VA to provide disability benefits to Navy veterans who were exposed to the herbicide in Vietnam.
Harder's current bill is likely to become law as part of the NDAA, a massive conglomerate of legislation that authorizes $740 billion in defense spending. Both chambers passed their respective versions with broad bipartisan support, 295 to 125 in the House and 86 to 14 in the Senate.
President Trump has repeatedly threatened to block the bill, tweeting on Tuesday that he would veto the package if it did not repeal a federal law known as Section 230, which protects social media companies from being legally liable for their users' posts. Trump also threatened a veto in mid-November over a provision that would change the names of 10 military installations that recognize figures from the Confederacy.
However, the majorities backing the NDAA are veto-proof, and prominent Senate Republicans including Armed Services Chair Jim Inhofe (R-OK) and Majority Whip John Thune (R-SD) have said that changes to Section 230 would not be on the bill.