San Joaquin Among 28 Counties Moving to Purple
November 16, 2020 at 6:43 pm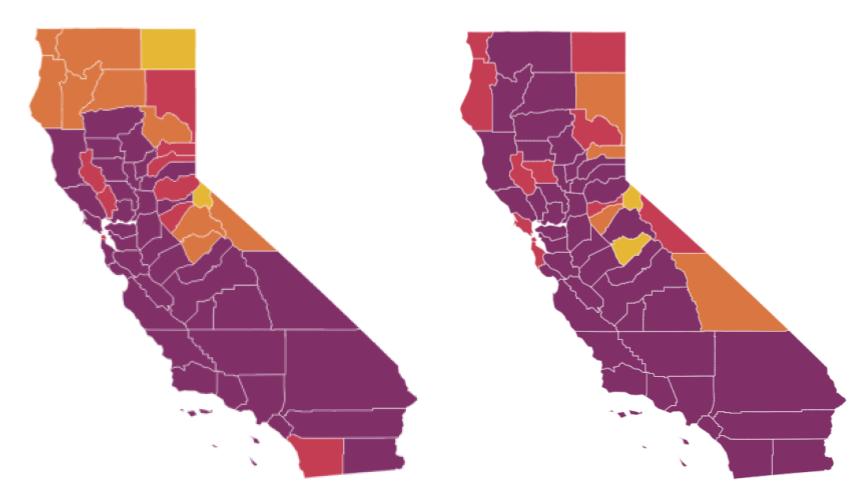 covid19.ca.gov
San Joaquin County is among 28 counties moving into California's most restrictive COVID-19 tier, purple, Gov. Gavin Newsom announced on Monday. Indoor operations for restaurants, gyms, movie theaters, and houses of worship will be closed effective Tuesday. Newsom said that California was "sounding the alarm", warning that the new wave of coronavirus could overwhelm the state's healthcare system.
Counties will now be given 24 hours instead of three days to adjust to their new tier status. The state is also strengthening its face covering guidelines to require people to wear a mask whenever outside their home, with limited exceptions. Gatherings are required to be outdoors with less than three households, and those traveling into California are recommended to self-quarantine for two weeks.
New rules have also been added to California's tiered reopening system. Counties will move back tiers if they fail to meet the COVID-19 thresholds for their current tier after one week, instead of two. Under that rule, San Joaquin would have moved to the purple tier regardless this week, as the county's numbers moved into the purple area last Tuesday.
Tier assignments will also now come twice a week instead of once. Some counties will also be moved back multiple tiers in a week if they experience a significant enough increase in cases.
Daily cases statewide have doubled over the past 10 days, the fastest increase of the pandemic in California. Out of the state's 58 countries, 41 of them are now in the purple tier. Only Alpine and Mariposa Counties are still in the yellow tier, the least restrictive.
Schools that have already reopened in San Joaquin can stay open despite the county's new status. The majority of public schools have remained closed, although Manteca Unified has moved forward with in-person learning. There have been a total of nine confirmed COVID-19 cases in the district since the first students came back on November 2. Students in grades 4-10 had their first day of in-person learning on Monday.
Any schools that are still closed or have not received a waiver will have to wait until San Joaquin is in the red tier to reopen. The county has said it is not currently accepting waiver applications due to the current case rate.
San Joaquin currently has a case rate of 16.4 per day per 100,000 people, with a positivity rate of 6.5%. Cases may continue to rise with Thanksgiving next week and the rest of the holiday season coming up.
Newsom has said that he is considering a statewide curfew, and that more restrictions could be coming on Friday. He faced criticism recently after attending a birthday party for a friend at the French Laundry in Yountville, in violation of his own coronavirus guidelines.